Second Quarter 2020 Habitat
Please note some updates in this quarterly digital Issue. As we navigate through uncertain times due to COVID-19, AAA has rescheduled its annual trade show as well as other industry events. For up-to-date information, click here for AAA Event Updates. Please also read "Multifamily Operations & COVID-19 - Measures to Consider" to protect your employees and communities.
We are excited to share the new issue of Habitat Magazine!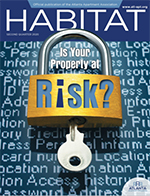 The Second Quarter 2020 issue of Habitat Magazine is now available on a fully interactive platform optimized for mobile reading. That means whether you are at your desk or on the go, your magazine is easy to access and even more comfortable to read.
The new reading view makes reading easy with scrolling articles that automatically adjust to display content legibly on your screen. This reader-friendly view also guarantees you don't ever have to strain your eyes looking at magnified images again!
Engage in our featured articles in this new and improved format:
Still a fan of the digital flipbook? Our new platform also provides a page view of the magazine. You have the ability to switch between either view whenever you like by clicking on the "reading view/page view" button in the toolbar.