Designations and Certifications
ENHANCE YOUR EARNING POTENTIAL BY INVESTING IN YOURSELF
NATIONAL CREDENTIALS FOLLOW YOU EVERYWHERE, SO GET YOURS TODAY!
---
CERTIFIED APARTMENT MANAGER | CAM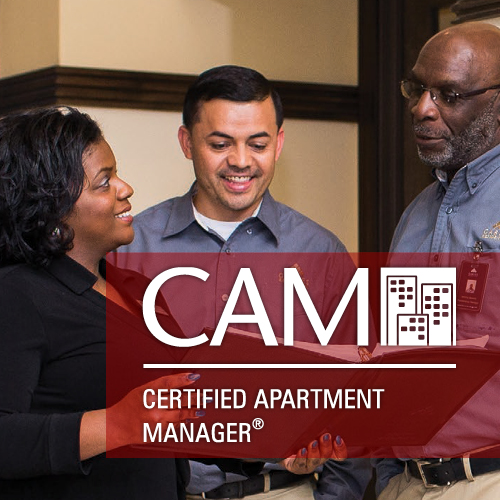 The onsite community manager is a vital link between apartment residents, community owners, and investors. The CAM(Certified Apartment Manager) Credential Program curriculum is designed to enhance the skills of the on-site property management professional and provides the highest standard of training, which can result in improved resident retention, increased employee productivity, and a better-managed and more profitable asset.  
In this course, you will gain knowledge and have a better understanding of the challenges you face day-to-day. At the same time, you will have a new opportunity to share your experiences as a multifamily industry professional with other dedicated peers, establish valuable contacts for the future, and increase your own experience level. This course is ideal for community managers and assistant managers. 
Ready to Take CAM?  Take the CAM Readiness Assessment by clicking on the link below!
---
---
CERTIFIED APARTMENT PORTFOLIO SUPERVISOR | CAPS
Earn your Certified Apartment Portfolio Supervisor designation to enhance your leadership skills, better interpret property results, and track progress toward property or portfolio objectives. Whether you are a new or experienced portfolio supervisor, enhance your knowledge and on-the-job performance. 
You'll Learn About:
Legal Responsibilities and Risk Management
Financial Management
Property Performance Management
Property Evaluation and Due Diligence
Effective Leadership
Contemporary Management in Multifamily Housing
---
LIHTC/HCCP - CERTIFICATION
Housing Credit Certification is a professional certification program that sets professional competency standards for housing credit professionals involved in developing, investing in, allocating, and managing housing credit properties. 
Day One:
Property LIHTC Compliance
Introduction & Key Players in a LIHTC deal
How Credits Are Figured
Details You Must Know About Your Development
Timelines-Development & Rent-Up Through LURA period
Calculating Rent & Income Limits
Other Program Rules-Including Next Available & Vacant Unit Rules & Fair Housing
Combining LIHTC with Other Programs
How to Enjoy State Agency Inspections & Correcting Non-compliance
Day Two:
Certification Steps, Interviews & Applications
Determining Household Size
Establishing Student Status
Verification Procedures
Anticipating Income & Assets
Completing the Certification Form
Re-certification
State-Specific Issues
Course Material Review & Exam 
---
CERTIFIED APARTMENT SUPPLIER | CAS
Suppliers are important liaisons in the multifamily housing industry. This program is designed as an opportunity for suppliers to hear the everyday challenges faced by the apartment manager customer. The CAS program is ideal for new salespeople as well as veterans of the industry.
Earning the CAS Credential allows you to network with your peers from other companies, community managers, and assistant managers. This course is an opportunity for suppliers to learn, and gain knowledge, and insight about the everyday challenges faced by their clients/customers in the multifamily industry. 
Here is What you will learn:
Industry Essentials (optional)

Financial Management

Legal Responsibilities

Risk Management

The Resident Experience