Featured Listing Upgrade
What Do You Get vs. the Standard Listing?
All AAA Associate Member companies have a complimentary listing in our new and improved Online Buyers Guide. Moving to this new platform allows real-time updates - as soon as you update your information, it's updated on the Buyers Guide immediately! We also have enhanced the search and filter capabilities and can now list results on a Google Map. This is all designed to help AAA Owner-Manager and Apartment Community members to find you as easily as possible.
Your standard listing in the directory includes basic information, including company name, logo, phone number, and web & email addresses. Note: this information is only as up-to-date as you keep it. Member companies can always update their profile by logging into the Member Compass and changing it under the Company tab.
Sample Standard Listing

Featured Listing Upgrade
For companies that would like an enhanced listing, we offer a $250/year* Featured Listing Upgrade. With this upgrade comes many additional benefits, including:
Social media links
Twitter and/or Facebook feeds
Company bio
Ability to list members-only Special Offers
Gallery of images and videos
Appear first in searches
Sample Featured Listing: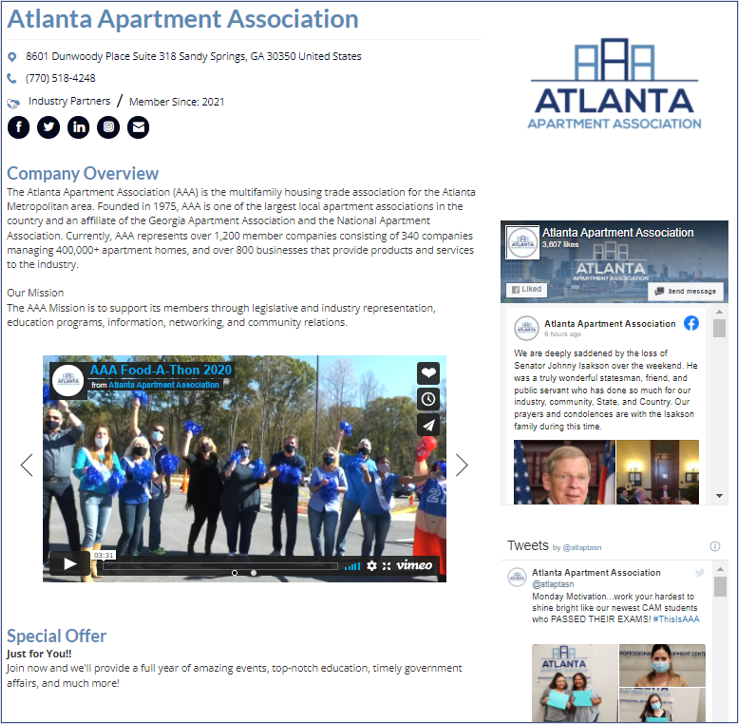 * This fee is charged every year and upgrades the listing for the current calendar year. It cannot be prorated if purchased later in the year.