Certified Apartment Portfolio Supervisor | CAPS
Fast Track Your Career!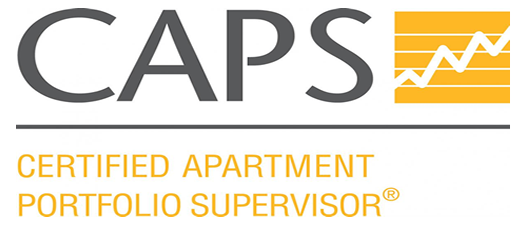 Tuesday, February 9, 2021
at
8:30 AM (EST)
to Friday, February 12, 2021 at 5:00 PM (EST)
* Registration open until 2/5/21 at 4:30 PM (EST)
Certified Apartment Portfolio Supervisor
Live In-Classroom
Febraruy 9-12, 2021
9:00 am - 5:00 pm
All New Course Material
Fast-track your career advancement by earning your Certified Apartment Portfolio Supervisor (CAPS) designation. This nationally recognized program is designed for multi-site supervisors and experienced apartment managers with a CAM, ARM or RAM designation.
You'll Learn About:
Achieving ethical excellence
Understanding the management agreement and creating an owner's report
Stakeholder relations with residents, communities, and municipalities
Mortgage financing
Overseeing the budget process across a portfolio
Measuring portfolio performance and property valuation
Investigating and troubleshooting an underperforming property
Property acquisition and due diligence
Market analysis and property inspections
Operational and financial analysis inspections
Property development feasibility analysis
Investment strategies, including renovation, disposition, and refinancing
Key content for the owner/company due diligence report
Talent development and management throughout the employee cycle
Managing staff during property sales or purchase
Contemporary issues, including occupancy, emotional support animals, hoarding, criminal background checks, RUBS, cybersecurity, and music licensing
Requirements: CAPS Candidates must have worked as a multi-site supervisor for 24 months or have a CAM Designation in good standing and 24 months of management experience.
Pricing Infromation
Member price | $1600
Non Member price | $1700
Live In-Classroom
Instructor Lead
For More Information: